With a sub continental (Indo-Pak) cultural background, ULC understands that women are comfortable to share their concerns and problems with women only, that's why ULC has set Women's Fellowship separately to provide them Christian education and counseling by women leaders. On weekly basis they have their meetings (every Friday 06:30 – 07:30 pm) and their prominent activities are as under:
1- Bible study
2- Praise and Prayer
3- Fasting and Prayer
4- Whole Night Prayer
Women's Fellowship is playing a significant role in the overall ministry of ULC.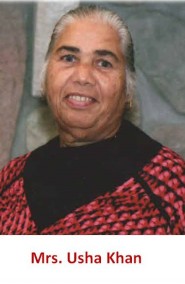 Mrs. Usha Khan wife of Rev. Khan has been leading Women's Fellowship for many years, after her Mrs. Reena Noel William led the group for some time, then it was stopped till August 2011.
In September 2011 ULC-Women's Fellowship was re-established under the leadership of the first lady of the Congregation Mrs. Sonia Isaac who is graduate in Theology from Gujranwala Theological Seminary, Gujranwala, Pakistan.
A  devoted Bible Teacher Mrs. Shazia Amjad who is raised and trained in the congregation and also holds the experience of teaching in congregation's Church School for many years is at present leading the ULC-Women's Fellowship.